---
Depending on the type of Carp, you can use flies to lure them.

Fly fishing has evolved into a very effective way to target carps like Mahseer, Common Carp, Mirror Carp and Grass Carp. I have seen some pictures and heard of stories wherein a Mrigal Carp was caught on fly, but not sure if it was targeted or rather a by-catch. In either case, you should be able to adapt your technique to target Mrigal as well.

I have not fished for Carp using conventional lures, but I am guessing it might be difficult to do so given their feeding behavior. But if someone has please enlighten me! Not much help there.

Fairly recently (< 4 days ago) I have been successful in targeting some massive Grass Carp in the local Bayou system using terrestrial dry flies (top water lure). Although I was let down by the fight as I was hoping that there would be screaming runs, I was able to land but one given some hard fights. So I can confidently tell you that you can target them using flies.

(NOT ME)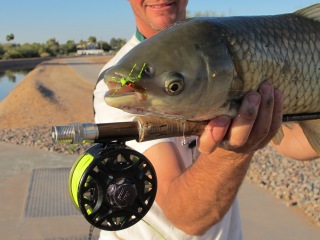 I have also on occasion been able to target some Common Carp while tailing (feeding) to come inspecting a well presented fly. After being connected a couple of times, I couldn't keep enough pressure on it owing to my light setup and fish broke off both times. So you not only need effective technique, but also need robust tackle.

(Unforunately NOT ME)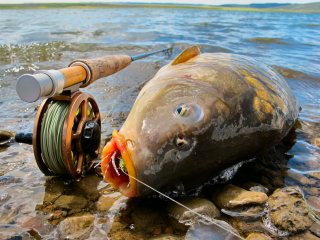 The Mahseer from the above list can be targeted using a conventional tackle and from my research a 30g copper, silver and gold spoons with robust hooks should be able to do the trick. A ton of brits fishing in the Himalayas have consistently caught 40-lb Golden Mahseer and some smaller Copper/Chocolate Mahseer using this setup. From watching some videos I can also say that similar setup has worked well for Kaveri river Mahseer, both Humpback and Bluefin version.

But as far as Rohu or Catla are concerned, I have not seen or heard of either of them being targeted with fly or conventional lure. Boy I hope someone cracks this someday!

I hope this helps you on your quest to targeting them freshwater torpedoes in India. Hope to catch one someday in my home country. Best of luck and do let us know how it goes.

Cheers and tight lines!